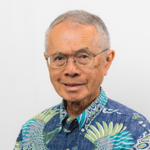 Each year the Hawai'i Council of Engineering Societies selects three professional engineers for the Lifetime Achievement Award, Engineer of the Year, Young Engineer of the Year and one student for the Student Engineer of the Year award.
Ronald N.S. Ho was selected as the recipient of the 2018 HCES Lifetime Achievement Award.
Ron founded Ronald N.S. Ho & Associates, Inc. in 1978 as a one-person firm and served as its President from 1978-2011. It is one of the largest electrical engineering consulting firms in State of Hawai'i today. The company provides electrical engineering services within the State and throughout the Pacific.
Ron received his BSEE degree in 1967 and an MSEE in 1968, both from the University of Hawai'i. He is still a licensed electrical and mechanical engineer in the State of Hawai'i.
Prior to founding Ronald N.S. Ho & Associates, Inc., he served as a technical staff member of American Aviation in Anaheim, California from 1968 through 1972, then as an electrical engineer with ARINC Research Corporation in Honolulu, Hawai'i from 1972-1976 and finally as vice president of C&H Engineers in Honolulu, Hawai'i from 1976-1978.
Read more about the HCES awards here.
Congratulations, Ron!