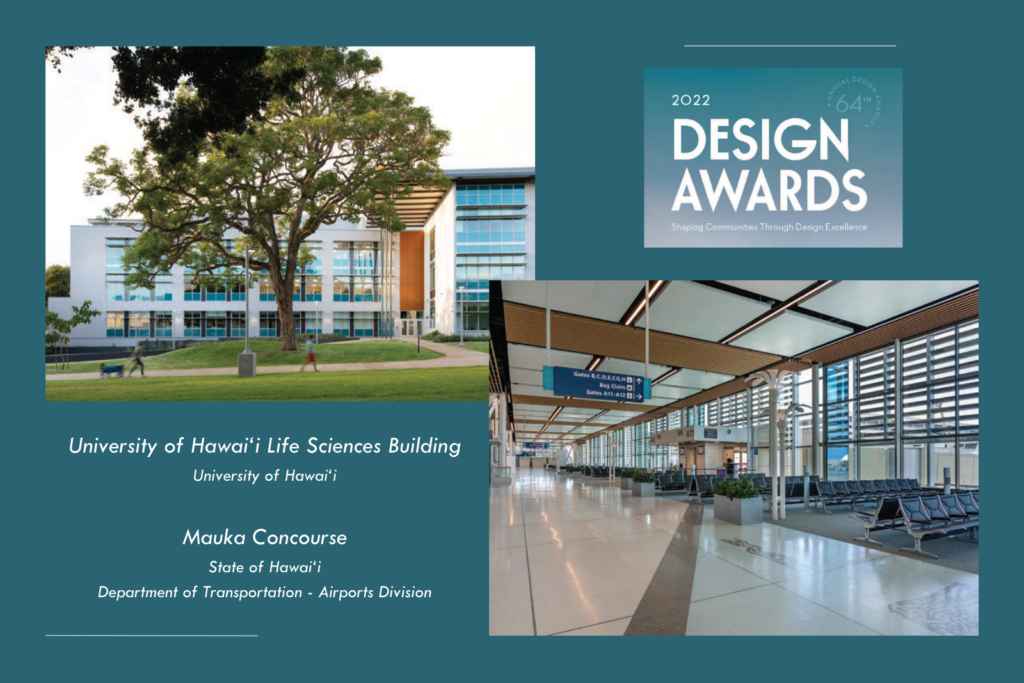 Congratulations to all the 2022 AIA Honolulu Design Awards Recipients.
G70 received the Mayor's Choice Award for their work on the University of Hawai'i Life Sciences Building. RNSHA provided electrical engineering design for the new laboratory building.
KYA, Inc. received the USGBC Hawaii Sustainability Award for The Daniel K. Inouye International Airport Mauka Concourse. RNSHA provided the design of approximately 230,000 SF of interior space improvements, demolition of existing commuter terminal, and site preparation, including relocation of utilities.
RNSHA also teamed up on these notable projects:
Design Partners Incorporated received the Award of Merit + Hawaii Energy Award for Energy-Efficient Design for the Punahou School, Sidney and Minnie Kosasa Community for Grades 2-5 and KYA, Inc. was recognized as a Distinguished Entrant for their commercial/industrial project on the KOA Federal Inspection Services Building.
For more highlights on the following exemplary projects and architects, check out all the winners and entrants featured in the special Design Awards insert included in the September issue of the Hawaii Business Magazine.